Astute Financial Consulting is a team of financial consultants led by Jim Lee out of Fort Collins, Colorado. They have been helping security alarm companies perfect their accounting and reporting processes for over two decades. As a result, these companies experience a consistent and stable platform that allows for accurate reporting and insight into the performance of their operations.
Astute partnered with Vivid Reports in 2012 to leverage Vivid's advanced reporting and budgeting solutions. This enabled them to translate their expertise into a suite of pre-built report packages tailor-made for the security alarm industry. As part of the report implementation process, they will optimize the accounting system and recommend best practices for reliable reporting. These reports are comprehensive and leverage the vast experience that comes from working with 100+ security alarm companies. Report Packages contain many ratios and metrics specific to the security alarm industry that are easy to understand and connected directly back to live ERP data.
Astute's report packages touch on all aspects of the operations, including:
RMR (Recurring Monthly Revenue)
Financial Reporting
Budgeting
Sales
Payroll
Service & Technicians
Time & Billing
WIP
Attrition Management
and so much more.
Scroll down for a sample of what Astute has created using Vivid Reports. The following samples include:

Report Type
Primary Users
Monthly Business Analysis……………………………….
Monthly Department Analysis………………………….
Bank Compliance……………………………………………..
Dashboards……………………………………………………………
Executives, Managers, & Supervisors
Report Packs…………………………………………………………
Toolbox Reports…………………………………………………….
Managers, Supervisors, & Staff
Accounting Reports……………………………………………..
Monthly Business Analysis (MBA)
The MBA is the tell-all month-end recap for security business owners and executives. Comparative and trend data support key financial and operating metrics. A breakdown of new and existing business reveals illuminating insight about company performance. Return on assets and investment, calculated with consideration for change in the value of recurring monthly revenue (RMR), deliver the punch line of your company's financial story.
Monthly Department Analysis (MDA)
The MDA compiles key performance indicators for straight-forward analysis of installation and service operations at the branch and/or department levels. Trailing twelve-month (TTM) numbers provide averages and show trends for benchmarking. Results are summarized in a chart showing current period performance results versus budget and TTM averages. Questions are quickly answered by drilling down to supporting detail.
Dashboards
Dashboards deliver real-time activity and results for different purposes. Department dashboards display key metrics to keep staff informed of status and progress related to daily tasks. Other dashboards show daily, weekly, monthly, quarterly, and annual trends to provide clear indication of company performance for monitoring progress and ensuring you are heading in the right direction.
Report Packs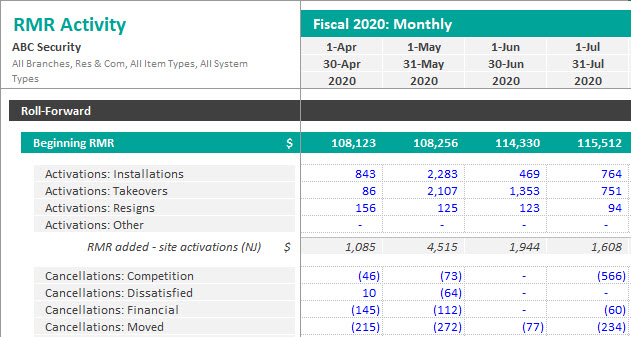 Report Packs are the lynchpins behind the integrity and reliability of Astute Reports. Each Report Pack is anchored by a roll-forward report, where beginning values, activity and ending values are displayed in weekly, monthly, quarterly, or annual formats. Pivot tables provide valuable insight by summarizing information instantly for powerful data analysis. Report Packs include RMR, jobs, service, technicians, prospects, cash, accounts receivable, accounts payable, and inventory.
Toolbox Reports
Everyone can find a few favorites in the Toolbox where dozens of reports cover a wide array of subject matter. There are RMR reports for "slice and dice" analysis, trend analysis or simply gathering detailed information. There are job reports, like the Closed Jobs Review and Open Jobs Review, that help streamline daily operations. There are inventory and service reports, including the Contract Analysis for calculating service/inspection contract profitability. Additionally, there are utility-type reports that help keep your database in good order.
Accounting Reports
The accounting reports streamline month-end accounting processes while ensuring accuracy and compliance with generally accepted accounting principles. Certain reports, like Credit Card Entries and Payroll Entries, simplify what are often tedious tasks. Job accounting reports tackle the most complex area of accounting for security alarm companies, ensuring proper recognition of revenues and matching of costs. Cash Flow Forecast, Commissions Tracking and AR-RMR Aging are additional accounting report examples that empower your financial team to perform at the highest level.
Many Astute Reports can be viewed in a browser using Vivid Web Application. The application works similarly to Microsoft Excel® with the convenience of any time, any device, and any location accessibility through the internet.
To learn more about the Vivid Reports created by Astute, or to take a look at everything Vivid has to offer, please contact us.
Share: