If your team is using Jet Reports™ and you're not fully satisfied, then Vivid Reports is an excellent alternative. We are able to take any report that you are currently using with Jet Reports™ and "Vivid-tize" it. As soon as your reports are converted, you can immediately take full advantage of Vivid's advanced features. This transition is easy and there is no interruption to your reporting cycle.
Vivid is fully integrated with all Microsoft Dynamics® ERP, including cloud-based offerings such as Microsoft Business Central® and D365® F&O, as well as 60+ other ERPs. Therefore, integration with your ERP is quick and easy.
Advantages of Vivid Reports
No more Cell-based formulas
Vivid Reports does not rely on Excel® formulas. This improves the performance and security of your reports and definitions. Instead, Vivid uses a central database repository to store all definitions and security settings. As a result, there is a single point of management, regardless of how many reports you create. In Vivid Reports, you never have to create (or maintain) the same definition twice even when using different report layouts. All the heavy report processing is handled by the server, without any performance degradation or the need for faster workstations. You can also lock down definitions, which is essential for public companies that must remain SOX compliant. See the image below and notice how with no Excel® formulas being used, the value in the cell is the exact same as the value in the formula bar.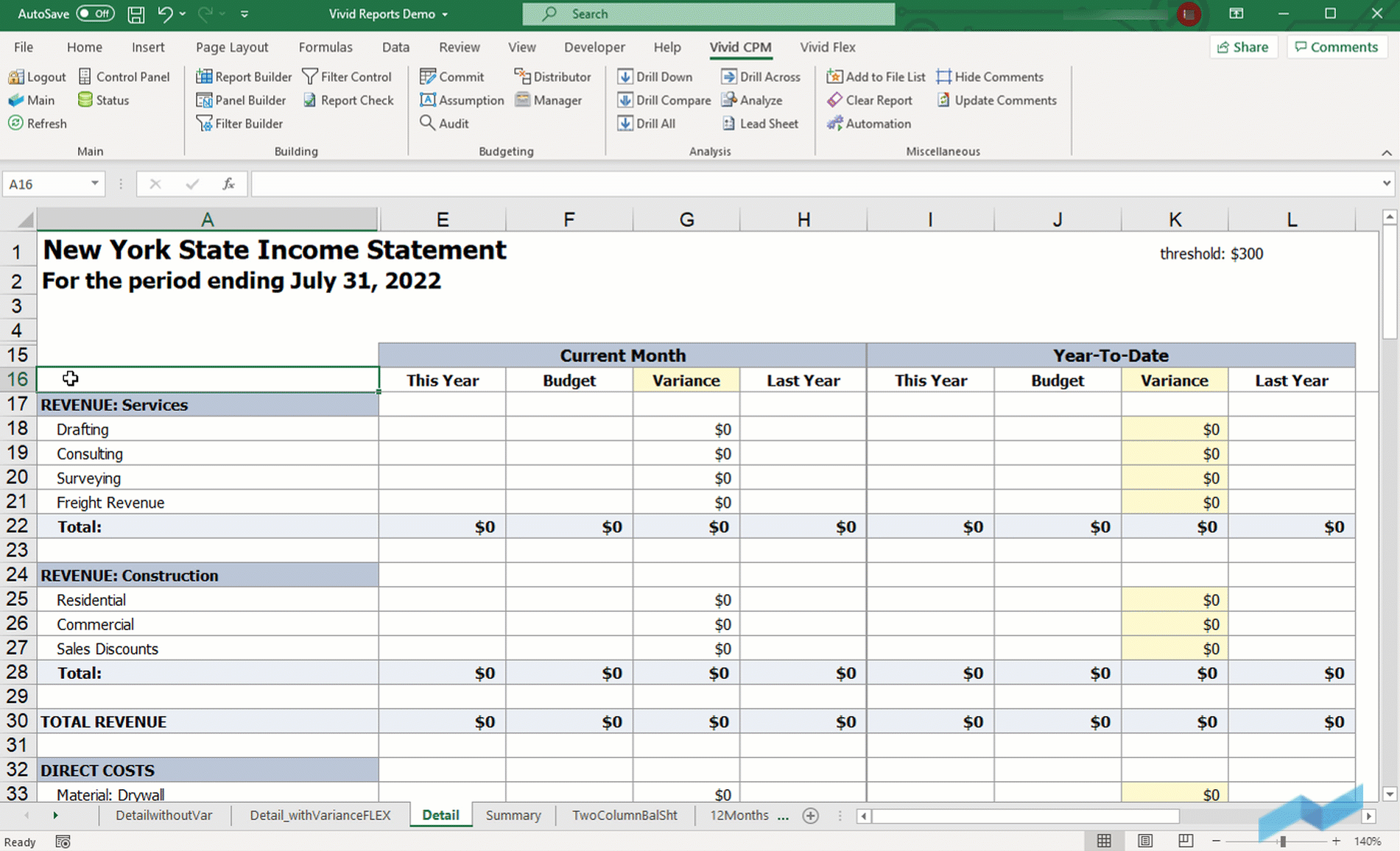 Faster and Smoother Performance
Vivid Reports' performance is very fast. As mentioned, part of this improvement comes as the result of the elimination of cell-based formulas. However, this is not the only reason why. Vivid is actually using Microsoft SQL Server® to run your reports. Excel® behaves only as an interface to display results, much like how a web browser displays web pages. This makes processing complex, multi-user, and multi-million transaction environments run smoother.
There is no need to paste or enter report parameters into your reports. Vivid Reports are easily navigated and refreshed using an intuitive control panel. This control panel can be found in the Vivid toolbar and provides a small window with a searchable, easy-to-use drop down menu. The control panel can hold multiple trees and rollup configurations. See the image below for an example. In Vivid CPM, rows and columns are matched on the server, which is significantly faster than workstation level processing relying on Excel® formula logic. With a click of Vivid's refresh button all of your information flows directly into your report template in seconds.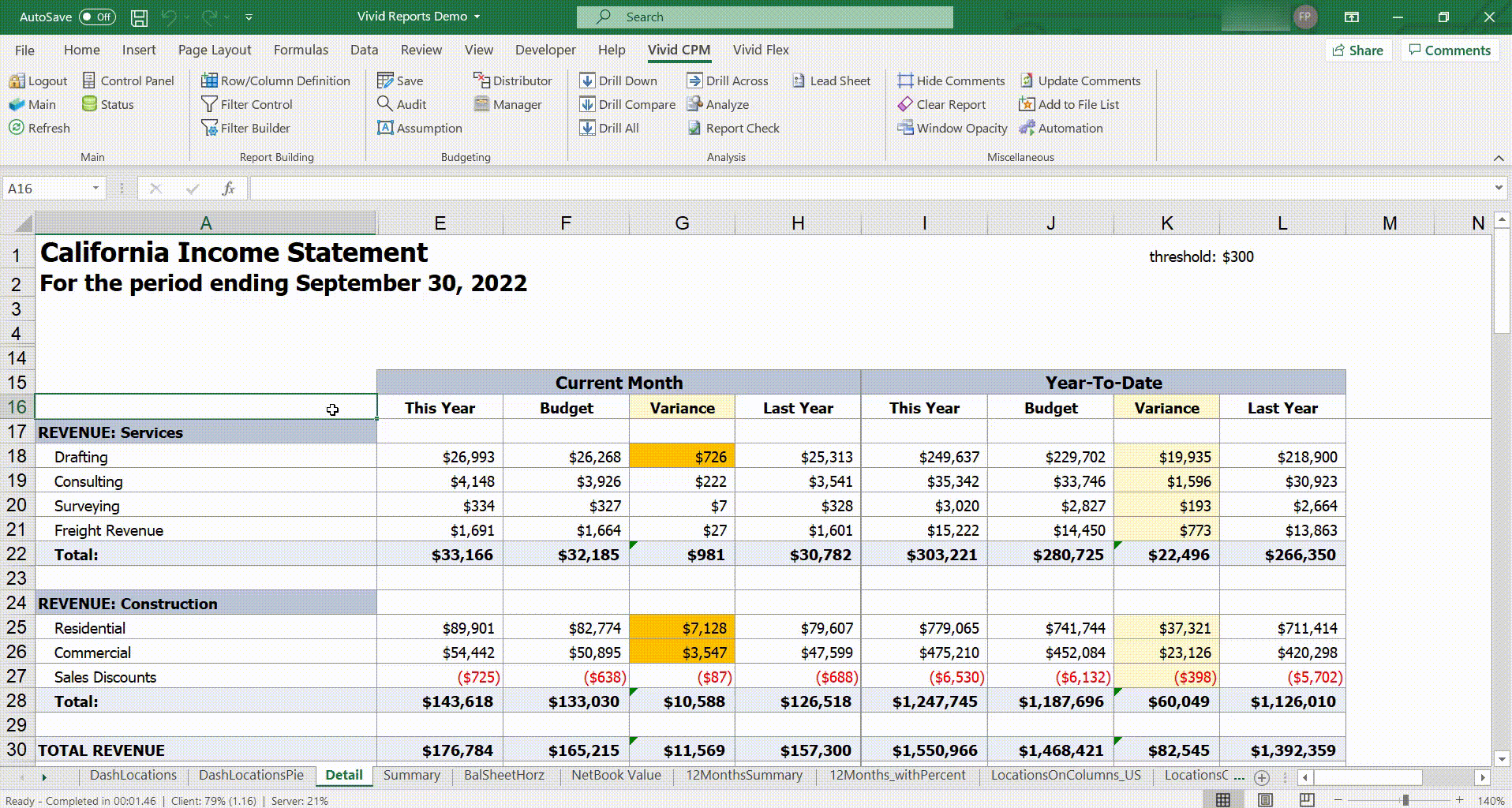 Complex Reports
Vivid Reports handles advanced financial reporting requirements with ease. Clients can define intricate report definitions and rollups for complex chart-of-accounts and segment structures. Advanced analysis features including trend and variance analysis make spotting and understanding anomalies a breeze. Vivid is also able to provide complete insight across the entire organization when CPM is paired with Flex. This is because Vivid Flex can report on any sub-ledger, even disparate systems that are external to the core ERP.
Improved Budgeting Processes
If you are currently using Jet Budgets™, you can take existing budget templates and convert them to Vivid. Creating new budget templates in Vivid is quick and easy. This is because Vivid budgets are an extension of Vivid's reporting capabilities that allow any existing Vivid report to be repurposed as a write-back template for budgeting purposes.
Vivid budgeting includes:
Template automation and distribution
Seamless budget consolidation and analysis
Budget transactions for any level of detail
Notes, assumptions, and attachments
Allocations
Ability to audit all budget changes by user and date
and more!
Cloud Ready
Vivid is cloud-ready. This means that any Excel® report created in Vivid can be easily deployed through the Vivid Web application. By using Vivid Web, your reports become easy to share and accessible on any device. Additionally, you do not need a license to Microsoft Excel® when viewing reports through the Vivid Web application. As a result, reports can be published quickly without any conversion or complex manual steps. As mentioned, Vivid Reports supports a growing list of cloud-based ERP including Business Central®, D365® F&O, Acumatica®, and SAGE Intacct.
Excellent Customer Service
Customer service at Vivid is second to none. Existing customers often say that this benefit is a high selling point for them. The Vivid Reports Support Team is highly responsive and will be in touch quickly by phone, email or remote control based on your preference. Our entire support team is employed, trained, and managed locally by Vivid Reports within our offices. As a result, our support and development teams communicate effortlessly to get you the personalized assistance you expect.
We strive to not only support you, but to ensure you achieve the most from Vivid Reports. Our support team will never rush any question that you have. Instead, our support will help you find the best way to leverage our technology and in accordance with best practices. This approach ensures that your questions are not only answered efficiently but that you are well equipped to be a Vivid expert in no time.
It's time to switch! Feel free to request a demo or sign up for one of our monthly webinars to see if Vivid is right for you and your team.